Here at Palm Valley Family Dentistry, we are beyond grateful for our dedicated doctors and staff and are so thankful for each individual team member. The uniqueness they bring and the exceptional care they provide keep our patients coming back year after year. Our team strives to ensure our patients feel welcome, comfortable, and cared for every step of their journey here with us.
Scroll down to get to know more about our AMAZING staff!
Admin Team

Kim D
Office Manager
Kim has over 20 years of experience in dentistry and she joined our team as our Office Manager in 2023! She says the best part of her job is knowing that she is truly helping people improve their lives through better oral health and hygiene.
She is originally from Washington state and attended Shoreline Community College and Pima Medical Institute and started her career as a dental assistant. Her and her husband, Eric have 2 children and live in St. Johns with their Shepherd, Neena and their cat, K8. Outside of dentistry, she enjoys camping, boating, motorcycling and tending to her butterfly garden.



McKenzie
Financial Coordinator

McKenzie is our amazing financial coordinator and insurance processor. Originally from St. Augustine, she graduated from Bartram Dental in 2018 and has been an integral member of our team since! She works diligently to process insurance claims and verify coverages to ensure our patients can maximize their benefits; her experience as a dental assistant gives her a unique perspective and helps her understand the clinical portion of the ins and outs of insurances.
McKenzie and her husband live in Hastings, FL with one daughter, and they are excited to welcome a new baby in 2024! In her free time outside the dental world, she loves spending time with her family, mudding, four wheeling and boating.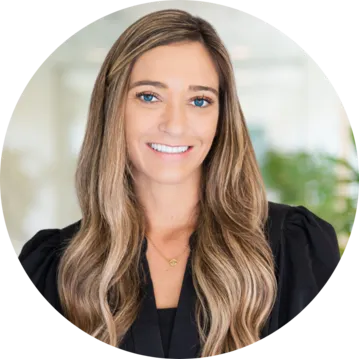 Shelby
Patient Care Coordinator
Shelby is the first face you'll see when you walk into the office and is our concierge of first impressions! Her warm smile and sweet personality will make you feel at home instantly. She works meticulously to balance patient phone calls, maintain the schedule, and make sure we do our best to stay on time. We are so grateful to have her as a part of our office and rely on her and her many years of dental experience.

Shelby and her husband have recently moved to St. Johns from Wooster, Ohio and brought with them their dogs, Stewie and Miley, and their cuddly cat, Mr. Oliver. They are enjoying the improvement in weather and the friendliness of Florida. Shelby is passionate about fitness and enjoys swimming, days at the beach, reading thrillers and sipping her iced coffee.
---
Clinical Team

Bekah
Dental Assistant
Bekah is one of our gentle and amazing dental assistants and has been with the Palm Valley Family since 2020. Originally from York, Pennsylvania, she grew up in Jacksonville and attended Bartram Dental Assisting school. She loves everything about the dental field and some of her favorite things are the fun and unique interactions she has while accompanying her patients on their oral health journey. She always has a way of making her patients feel welcome and comfortable.
Outside of work, Bekah enjoys going to the beach, working out at the gym, relaxing at the pool, and taking her dogs, Roux and Hazel to the dog park!
Lisa
Dental Assistant
Lisa is another member of our amazing dental assisting team and brings so much sunshine to our office with her friendly, positive outlook and beautiful smile. She loves working with patients, getting to know them, and helping them on the path to their best smile. Lisa attended Concorde Career Institute for dental assisting and completed her training at FCCJ. She has been in the dental field for over 20 years and couldn't imagine being in any other career.

Lisa was born and raised in Tennessee and moved to the St Johns area with her two kids, Witt, and June. They love the change in scenery, being close to the ocean and beach, and have settled in to make Florida their home. Lisa loves being outdoors and enjoys fishing, hanging at the beach and working out.
Kim G
Dental Assistant
Kim graduated from The Academy of Dental Technology as a dental assistant and has worked in the dental field for over 20 years. She loves keeping up with all the advancements in dental technology and is constantly challenging herself to learn new and exciting procedures. She prides herself in helping educate her patients on their changing dental needs and loves everyone's own special smile.
Kim, her husband, daughter, and their sweet, loveable rescue dogs moved from Virginia Beach to St. Augustine Florida in 2021. Kim loves kayaking, snorkeling, going to the beach and concerts and supporting her daughter's journey through dental hygiene school!
Amber
Dental Hygienist
Amber, a native of Jacksonville, Florida, graduated FSU Hygiene School in 2019 and joined the Palm Valley Family Dentistry hygiene team in January 2022. Her easygoing and fun personality helps patients feel comfortable and at ease from the moment they take a seat in her chair. She is passionate and dedicated to educating her patients about proper oral health and helping them work toward a smile they can be proud of.
In her home life, Amber enjoys days relaxing by the pool with her husband, playing with her daughter Olivia, and trying new, fun restaurants in the area. Their family is excited to grow and can't wait to welcome a new baby in the fall of 2023.
Jackie
Dental Hygienist
Jackie is another one of our rock star hygienists and we are so grateful to have her back on our team. Many of you may recognize and remember her as she was a member of our office for a little over 3 years a few years back and is now back to stay. Jackie has been in the dental field for over 14 years and started out as a dental assistant before deciding to further her education and career and obtain her hygiene degree. The dental field is definitely one of her greatest passions and she loves this practice, our team, our patients and educating them. She is excited to meet all of our new patients and catch up with existing ones.
Jackie is originally from North East Tennessee but has lived in the Jacksonville area for over 16 years. She has a great sense of humor and loves to relax and laugh and hang out with friends. She is an avid runner and an aspiring golfer and loves going out on the course and giving it her best attempt.
Melissa
Dental Hygienist
Melissa comes to our office with years of priceless experience in the dental field. She graduated from the Dental Hygiene program at University of FL in 2001 and says the best part of her career is meeting new people and getting to share their new and unique stories. Helping her patients maintain their dental health is a top priority and something she takes very seriously; she has a fun and compassionate bedside manner that her patients enjoy and that keeps everyone laughing.
Melissa was born in Seattle, Washington, moved south as a child, and has certainly become a Florida girl at heart! Her and her husband are raising three beautiful kids along with their French Bulldog. She loves to spend quality time fishing, hiking, picnicking and pretty much anything outdoors. She is also a passionate Seattle Seahawks fan and loves to "talk shop" any chance she gets.
Kelley
Dental Hygienist
Kelley is another member of our amazing hygiene team and brings with her a kind, fun and gentle way that brightens every space she walks into. Born and raised in Neptune Beach, Florida, she started her career as a dental assistant and decided to continue her education and become a hygienist. She attended FSU and studied Nutrition and Chemistry and graduated from FSCJ in Jacksonville with her Dental Hygiene Degree.
Sharing her knowledge and educating her patients on the importance of oral health and seeing, firsthand, the difference that can make in a patient's life is what she loves most about her job.